Andare, Partire, Tornare
-----------------------------------------------------------------------------------------
Ribbitt, Ribbitt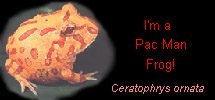 Argentinian Horned frogs seem to have been designed for the sole purpose of eating as much as possible. They appear to consist of two main parts: a mouth and a stomach. This is probably where they got the nickname "PacMan". Their needs are fairly simple, a warm habitat in a simple plastic box or aquarium with some shallow water and a few rocks so that they can laze around all day suits them just fine. They don't mix well with other frogs, even in their own species, as they are just as likely to eat them.
Apparently the part where I said I'd eat the chocolate bars without asking triggered the voracious, cannibalistic frog response. Who knew?
Rereading Donna Tartt's _The Secret History_. It's a strange book, written in such a restrained tone despite the weird things that occur in it. You'd think a book about bacchanal rites, murder, and bloody going's on in a forest would be more splashy, but instead it has the feeling of a marble frieze - cold and mannered and precise in tone until you look closer and realize that the story it tells is full of rousing emotion. I think the restraint is actually a bonus. Think of it as along the lines of a Patricia Highsmith "Ripley" novel, maybe. And it also has interesting themes of the bad mentor, who can lead intellegent but overawed pupils down a dark road, but never take any responsibility for it.
I'm The James Bond Villain Personality Test!

I live in a fictional world of spies and blonde women with ridiculous names, and I like to give people plenty of options. Although whether they're villainous is not optional.

Caerula , you are a baaaad influence. baaaaad.

9:22 a.m. - 2002-01-11


-----------------------------------------------------------------------------------------